Constable UP Police notification by the उत्तर प्रदेश पुलिस भर्ती एवं प्रोन्नति बोर्ड – Uttar Pradesh Police Recruitment and Promotion Board will be notify soon at official website http://uppbpb.gov.in/. The last notification was issued on 16 November 2018 for the recruitment of approx. 50,000 Constable in UP civil Police and PAC. Notification PDF link are provided at the end of Post. The Syllabus and Exam Pattern for the recruitment of Constable UP Police 2021 will remain same. It is given below for the jobs aspirants.
यूपी सिविल पुलिस और पीएसी में लगभग 50,000 कांस्टेबल की भर्ती के लिए अंतिम अधिसूचना 16 नवंबर 2018 को जारी की गई थी। उत्तर प्रदेश पुलिस कांस्टेबल अधिसूचना पीडीएफ लिंक पोस्ट के अंत में दी गई है | कॉन्स्टेबल यूपी पुलिस 2021 की भर्ती के लिए सिलेबस और परीक्षा पैटर्न एक ही रहेगा। यह नौकरियों के इच्छुक उम्मीदवारों के लिए नीचे दिया गया है।
One written Examination of 300 Marks Consists Objective Questions from the following subjects
General Knowledge
General Hindi
Numerical and mental ability – Mathematics
Mental Aptitude
Intelligence Quotient (IQ)
Reasoning Ability
सामान्य ज्ञान
सामान्य हिंदी
संख्यात्मक और मानसिक क्षमता – गणित
मानसिक योग्यता
इंटेलिजेंस क्वोटिएंट (IQ)
तर्क परीक्षण
Negative Marking for Wrong Answers.
Syllabus of Written Examination – UP Police Constable
General Knowledge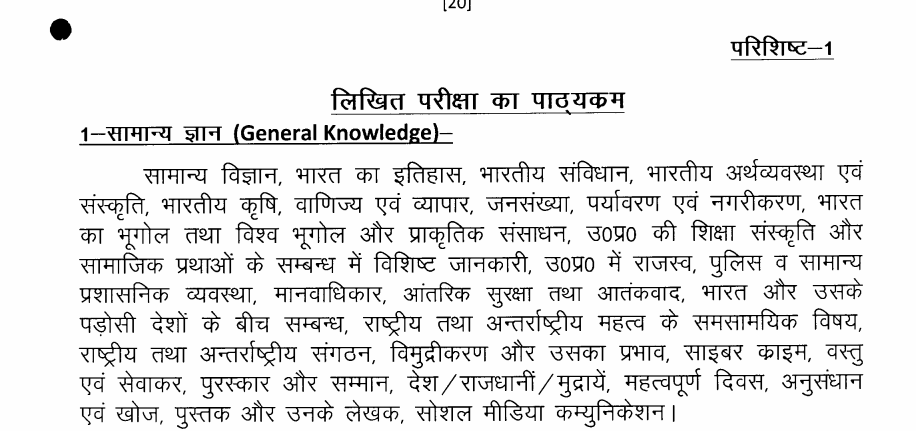 General Hindi
Mathematics – Numerical and mental ability
Reasoning – Mental Aptitude
Minimum 35 % is required to qualify
उत्तर प्रदेश पुलिस कांस्टेबल अधिसूचना पीडीएफ लिंक
UP Police Constable Notification – 16 November 2018 – Click Here
Reasoning Questions for Competitive Exams
Bilingual – Hindi & English
Constable UP Police Previous Year Question Paper – click Here