Hello, dedicated exam aspirants! We understand the significance of quality study resources when gearing up for SSC CGL, CPO, CHSL, NDA, CDS, MBA CAT, UPSC, Bank and all competitive examinations. To aid you in your pursuit of excellence, we are thrilled to offer a free download of an Objective General English book PDF for Competitive exams. This book is an indispensable tool for various competitive exams, whether you're aiming for government jobs, entrance tests, or any other competitive assessments.
What's Inside the Free Download:
Chapter-wise Breakdown: The Objective General English book is thoughtfully organized into chapters, enabling you to focus on specific areas of study with ease.
Grammar Essentials: Master the fundamentals of English grammar, from parts of speech to sentence structure and more.
Vocabulary Building: Enhance your word power with a rich selection of vocabulary-building exercises and word lists.
Comprehension Skills: Hone your reading comprehension abilities with practice passages and questions.
Idioms and Phrases: Explore a comprehensive list of common idiomatic expressions and their usage.
Synonyms and Antonyms: Expand your word choices with synonyms and antonyms to boost your language skills.
Spotting Errors: Sharpen your proofreading skills by identifying and correcting errors in sentences.
Sentence Improvement: Learn techniques to enhance the quality of sentences and make them more effective.
Fill in the Blanks: Practice completing sentences with appropriate words, ensuring you're well-prepared for the exam.
Practice Tests: Test your knowledge with mock tests and quizzes at the end of each chapter to assess your progress.
Why Choose this Objective General English Book:
Absolutely Free: We believe in equitable access to quality education. This book is available for download at no cost.
Comprehensive Content: Covering a wide range of topics, this book is designed to cater to the needs of various competitive exams.
Versatile Applicability: Whether you're preparing for UPSC, SSC, Banking, Railway, or any other competitive exams, this book is a versatile resource.
Updated Material: We keep our content up-to-date with the latest information and changes in exam patterns.
Topic Covered
topics covered in the Objective General English section for SSC CGL typically include:
Vocabulary: Synonyms, Antonyms, Homonyms, Word Formation, One-word Substitution, Idioms & Phrases, Spelling Errors, and Contextual Vocabulary.
Grammar: Error Spotting, Sentence Improvement, Active and Passive Voice, Direct and Indirect Speech, Phrase and Sentence Replacement, Sentence Completion, and Fill in the Blanks.
Reading Comprehension: Candidates are required to read and comprehend passages, answer questions related to the passages, and draw inferences.
Para Jumbles: Reordering of sentences or paragraphs to form a coherent and logical passage.
Cloze Test: Filling in the blanks within a passage to complete it with appropriate words.
Sentence Rearrangement: Rearranging jumbled sentences to form a coherent paragraph.
Spelling and Sentence Correction: Identifying and correcting errors in spelling and sentence structure.
Synonyms and Antonyms: Finding words with similar or opposite meanings.
Idioms and Phrases: Understanding the meaning and usage of common idiomatic expressions.
Active/Passive Voice and Direct/Indirect Speech: Transforming sentences between different voices and speech forms.
Fill in the Blanks: Completing sentences by choosing the right words or phrases.
One-word Substitution: Replacing longer phrases or sentences with single words that convey the same meaning.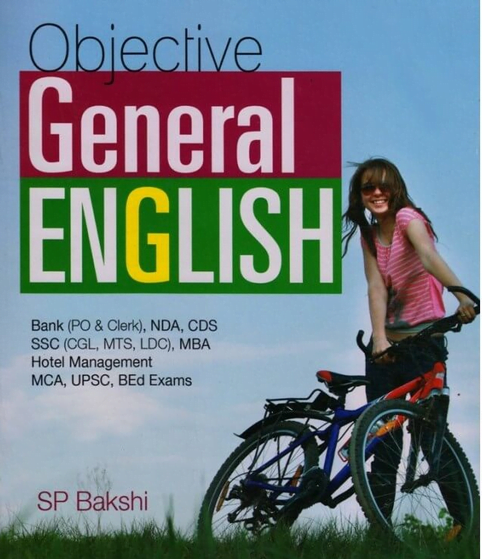 Download : Objective General English Book PDF
How to Download: To access your free copy of the Objective General English book, simply click the download link provided on this blog. The book is available in PDF format, allowing you to conveniently read it on your computer, tablet, or mobile device, and you can also print it for offline study.
Book Name : Objective General English
PDF Pages : 748