Uttar Pradesh (UP) is the most populous states in India and is known for its rich cultural, historical, and political significance. We are providing Uttar Pradesh General Knowledge (UP GK) PDF book in English for free download. This PDF with UP Geography, History, Polity and culture is very useful for the preparation of upcoming competitive exams to be conducted by UPSSSC and PUPSC.
General knowledge about Uttar Pradesh:
Here is some general knowledge about Uttar Pradesh: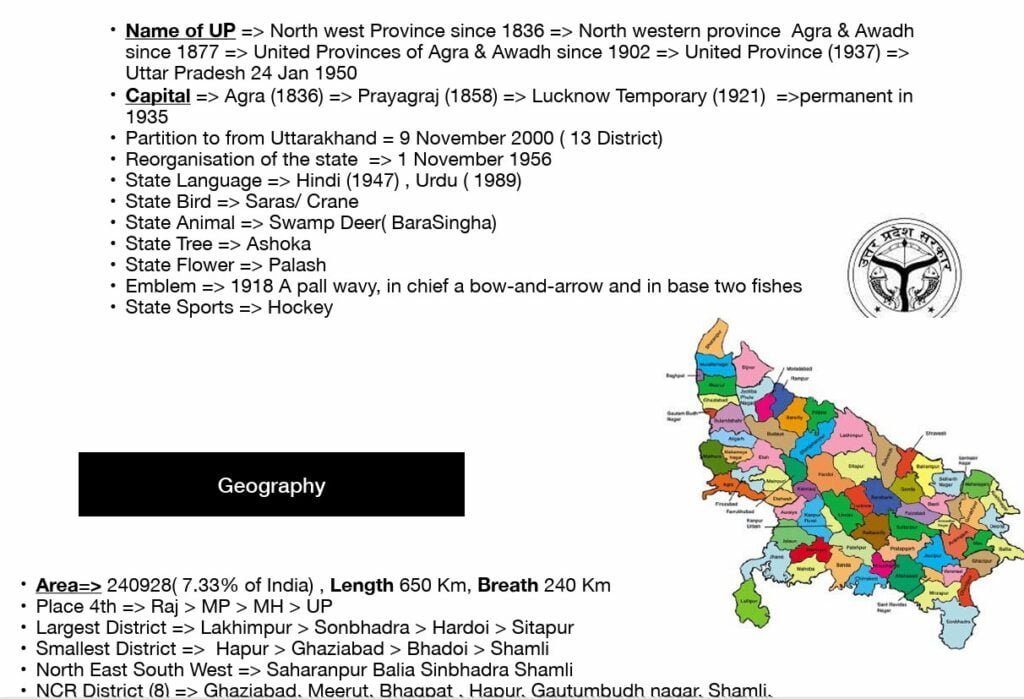 Geography and Location:

Uttar Pradesh is situated in the northern part of India and shares its borders with multiple states, including Uttarakhand, Himachal Pradesh, Haryana, Delhi, Rajasthan, Madhya Pradesh, Chhattisgarh, Jharkhand, and Bihar.

Capital:

The capital city of Uttar Pradesh is Lucknow.

Population:

Uttar Pradesh is the most populous state in India, with a diverse population comprising various ethnicities, languages, and cultures.

Historical Significance:

Uttar Pradesh is known for its rich historical heritage. It was the heartland of ancient India and has been the birthplace of many important historical figures, including Lord Rama, Lord Krishna, and Gautama Buddha.

Taj Mahal:

The world-famous Taj Mahal, one of the Seven Wonders of the World, is located in Agra, Uttar Pradesh. It is a UNESCO World Heritage Site and an iconic symbol of love and architectural beauty.

Religious Diversity:

Uttar Pradesh is home to several important religious sites, including Varanasi (Kashi), Ayodhya, Mathura, and Allahabad (Prayagraj), where the sacred rivers Ganges and Yamuna converge during the Kumbh Mela.

Economy:

The state has a diverse economy with agriculture, manufacturing, and services sectors contributing significantly to its GDP. It is one of the leading agricultural states in India.

Political Significance:

Uttar Pradesh is politically important as it sends the largest number of Members of Parliament (MPs) to the Lok Sabha, the lower house of India's Parliament.

Languages:

Hindi is the official language of Uttar Pradesh, but the state is multilingual, with several regional languages and dialects spoken.

Education:

Uttar Pradesh has several renowned educational institutions, including the Banaras Hindu University (BHU) in Varanasi and the Aligarh Muslim University (AMU) in Aligarh.

Tourism:

Apart from the Taj Mahal, Uttar Pradesh is home to numerous other tourist attractions, such as the historical forts of Agra and Lucknow, the holy ghats of Varanasi, and the wildlife sanctuaries in Dudhwa and Pilibhit.

Cuisine:

The state offers a diverse culinary experience with traditional dishes like kebabs, biryanis, and sweets like "jalebi" and "petha" being popular.

Festivals:

Uttar Pradesh celebrates various festivals with great enthusiasm, including Diwali, Holi, Eid, and Durga Puja.

Transportation:

Uttar Pradesh has a well-developed transportation network, with several major highways and railway routes passing through the state. It also has several airports, with Lucknow and Varanasi being the major international airports.

Wildlife:

The state is home to diverse wildlife, and it has several wildlife sanctuaries and national parks, including Dudhwa National Park, home to the Bengal tiger and various other species.
Uttar Pradesh's rich cultural heritage, historical landmarks, and religious significance make it a fascinating and important state in India's diverse tapestry.
Download : UP GK PDF
Name : Uttar Pradesh Static GK
Medium : English
Number of pages : 71
Thanks students for visit and free download UP GK PDF in English from the google drive. Best of luck for upcoming competitive exams.