The PDF of Important book and Notes of World History in Hindi, विश्व इतिहास useful for UPSC, SSC Study, UPPSC, UPSSC, State and Central Govt job, and all competitive exam. The google drive links for free download of World History Coaching Class Notes are provided in this post.
हिंदी में विश्व इतिहास की महत्वपूर्ण पुस्तक और नोट्स की पीडीएफ, यूपीएससी, एसएससी अध्ययन, सरकारी नौकरी और अन्य प्रतियोगी परीक्षाओं के लिए उपयोगी है, वर्ल्ड हिस्ट्री बुक इन हिंदी मुफ्त डाउनलोड के लिए लिंक में दिए गए हैं।
World and India History book PDF in Hindi by Rudra IAS Download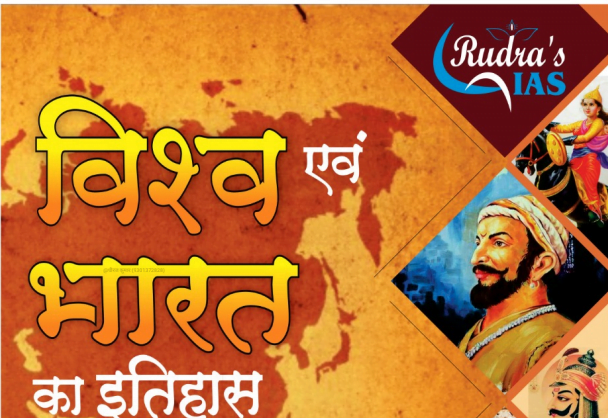 World and Indian History Book : विश्व और भारतीय इतिहास
language : Hindi Medium
By Rudra IAS Academy
Number of Page : 84,
Quality of PDF : Very Good
Level : UPSC, UPSSSC, SSC
Quality : Very good
Click below download button for World History Book for Competition Exam in Hindi
World History book in Hindi by Gurus notes Download
Contents of this World History book
परिचय
अमेरिकी क्रांति
फ़्रांस की क्रांति
1815 के पश्चात यूरोप
औद्योगिक क्रांति
प्रथम विश्व युद्ध
रूस की क्रांति
विश्व अर्थव्यवस्था का विकास और आर्थिक मंदी
फासीवाद
द्वितीय विश्व युद्ध और पश्चात
शीत युद्ध
Download : विश्व इतिहास Guru Notes PDF
Name : विश्व इतिहास
By : Gurus Notes
Handwritten Class Notes
Medium : Hindi
Number of pages : 290
World History Questions Practice Set – Click here
Thanks for the visit and free download the World History Notes PDF in Hindi for UPSC, SSC. UPSSSC and all competitive exams.