RRB Group D Previous Year Exam Paper in Hindi PDF Download – आरआरबी ग्रुप डी पिछला वर्ष का पेपर हिंदी में पीडीएफ डाउनलोड करें. All dates and all Shifts paper of September 2018 Level -1 Posts, Group D in one PDF for download. सितंबर 2018 लेवल -1 ग्रुप डी पोस्ट के सभी तिथियों और सभी शिफ्ट पेपर, डाउनलोड के लिए एक पीडीएफ में ।
This exam paper of 2018 is very useful for 2022 Railway RRB Group D recruitment exam. 2018 का यह परीक्षा पेपर 2022 रेलवे आरआरबी ग्रुप डी भर्ती परीक्षा के लिए बहुत उपयोगी है।
Why Previous year Exam Paper is required ?
Understand the Exam pattern and Syllabus.
Difficulty level
Increase the knowledge
Enhance the speed and accuracy
Ultimate motive to crack the exam
Number of Papers- All Shifts – All dates
September 2018 Level -1 Posts – Group D
CEN/ 02 2018 – Exam conducted in September 2018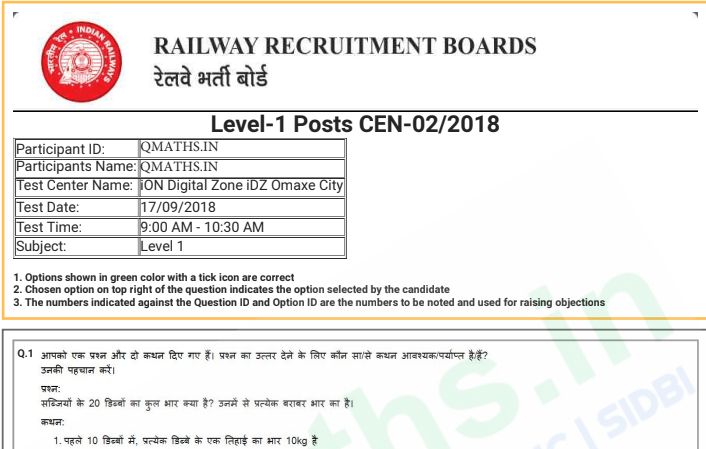 RRB Group D Previous Year Paper in Hindi PDF Download
Quality of PDF – Very Good
Language – Hindi Medium – हिंदी
All Shifts paper in one PDF
Click above image or below given download button for the PDF of Previous year Exam paper.
Name : RRB GROUP-D
Shift : All Shift
Date : December 2018
Medium : Hindi
Number of pages : 292
Name : RRB GROUP -D
Shift : ALL SHIFT
Date : November 2018.
Medium : Hindi
Number of pages : 448
Name : RRB GROUP-D
Shift : ALL SHIFT
Date : October 2018
Medium : Hindi
Number of pages : 1030
Name : RRB GROUP-D
Shift : ALL SHIFT
Date : September 2018
Medium : Hindi
Number of pages : 766
Name : RRB GROUP-D PAPER
PART-1 
Shift : All Shift
Date : 2018
Medium : English
Number of pages : 89
Name : RRB GROUP-D PAPER
PART-2 
Shift : All Shift
Date : 2018
Medium : English
Number of pages : 341