Quantitative Aptitude Book PDF for SSC CGL, CPO, CHSL and all competitive exams for free download. This Mathematics book in English cover all topics with detail explanation, Solution, Short tricks and practice MCQ questions.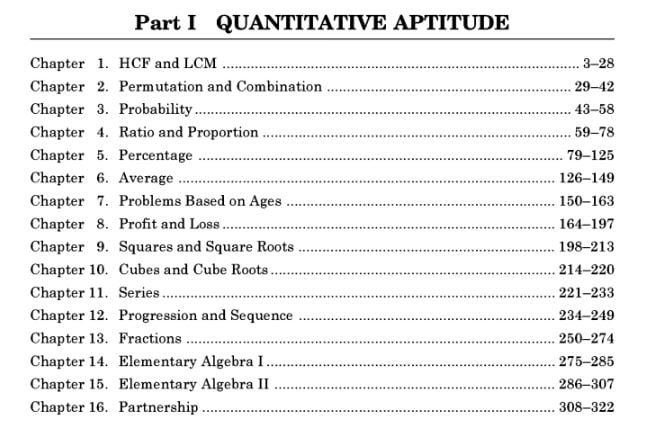 Quantitative Aptitude Book PDF
The contents of Quantitative Aptitude Book for SSC and other competitive exams is given below:
HCF and LCM
Permutation and Combination
Probability
Ratio and Proportion
Percentage
Average
Problems Based on Ages
Profit and Loss
Squares and Square Roots
Cubes and Cube Roots
Series
Progression and Sequence
Fractions
Elementary Algebra I
Elementary Algebra II
Partnership
Simple Interest
Compound Interest
Time and Work
Work and Wages
Pipes and Cistern
Alligation
Problems on Trains
Boats and Streams
Elementary Mensuration I (Measurement of Area)
Elementary Mensuration II (Measurement of Volume and Surface Areas)
Problems on Clock
Problems on Calendar
Time and Distance
Trigonometry
Odd Man Out and Series
Data Sufficiency
Data Analysis
Mathematical Operations
Divisibility
Number System
Arithmetical Reasoning
Simplification
Races and Games
Stocks and Shares
Discount
Logarithm
Download : Quantitative Aptitude Book
Name : Quantitative Aptitude Book
Medium : English
Book Author : R V Parveen
Number of pages : 768
Thanks for download Quantitative Aptitude Book for competitive exams. Best of luck for upcoming SSC examinations.