Download Math Notes Book PDF of Rakesh Yadav, Class Notes of Maths, गणित Useful for SSC, RRB, Bank, Defence, Police, State Govt jobs, and all competitive exams for Govt jobs. This PDF book includes Arithmetic and Advanced Mathematics and cover syllabus of competitive examination for entrance for higher education is available at following link for free download.
Rakesh Yadav Math Notes PDF
This book Pdf contents all the Math's Topic for SSC CGL, CPO, CHSL, NRA CET and other competitive Examination.
Contents of book
Arithmetic (Volume – 1)
काम और समय
पाइप और टंकी
समय और दूरी
नाव और धारा
प्रतिशतता
लाभ और हानि
मिश्रण
अनुपात एंव समानुपात
साझेदारी
औसत
चक्रवृद्धि ब्याज
साधारण ब्याज
Advance Math's (Volume – 2)
संख्या पद्धति और बीजगणित
लघुत्तम समापवर्तक एंव महत्तम समापवर्तक
ज्यामिति
निर्देशांक ज्यामिति
क्षेत्रमिति (2D)
त्रिकोणमिति (3D)
ऊंचाई और दूरी
सांख्यिकी
Download : Rakesh Yadav Math Notes PDF in Hindi
Class Notes of Maths
Complete Arithmetic and Advanced Book
By Rakesh Yadav Sir
Medium : Hindi
This book cover all topics required for Competitive exam Maths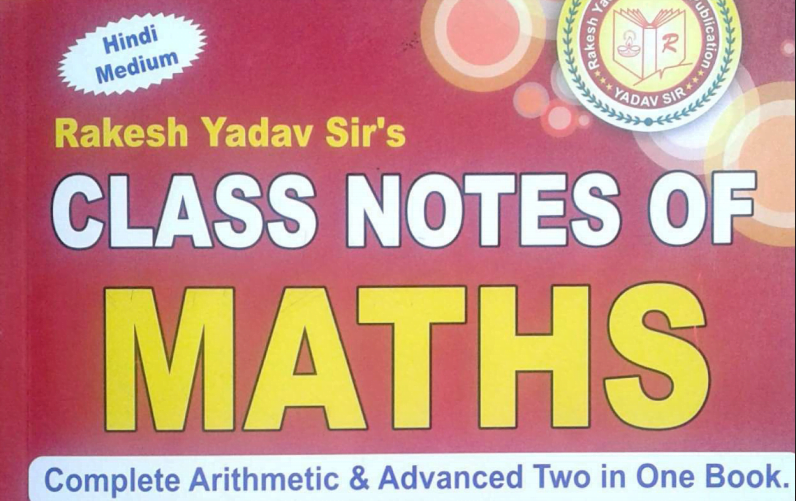 Number pdf Pages : 423
The PDF Math book of Rakesh Yadav Sir.
Click on below Download button for free download from google drive link.
Disclaimer – We are not owner of this Rakesh Yadav Book pdf, neither it been created nor scanned. we are only provide the material already available on the internet. if any violates the law or there is a problem so please contact us.