This PDF of Speedy Book on General Study Railway Samanya Gyan जनरल स्टडी – GS for Railway Recruitment Board (RRB) रेलवे रिक्रूटमेंट बोर्ड in Hindi is available for free download. It contains last 24 years previous year Exam Paper and Practice Sets in Hindi.
बुक ऑफ़ जनरल स्टडी – फॉर रेलवे रिक्रूटमेंट बोर्ड (आरआरबी) की यह पीडीएफ मुफ्त डाउनलोड के लिए उपलब्ध है। इसमें पिछले साल के एग्जाम पेपर और हिंदी में प्रैक्टिस सेट शामिल हैं
Contents of this book
Geography
Universe
World Geography
Indian Geography
History
Ancient India
Medieval India
Modern India
Indian Polity
Economics
General Science
General Awareness
Download : RRB General Study Exam
Name : Railway General Study
Medium : English
Number of pages : 63
Contents of Book
विगत 24 वर्षो का हल प्रशन पत्र सहित
425 पेपर सेट्स
जनसँख्या – 2011
कंप्यूटर विज्ञान
मानव शरीर
कृषि और पशुपालन
विज्ञान एवं प्रोधोगिकी
भारत में परिवहन
भारत में संचार व्यवस्था
भारतीय उधोग
भारतीय पर्तिरक्षा
भारतीय बैंकिंग
फिल्म जगत
पर्वत और पठार
नदिया
जलवायु
मिट्टी
भारतीय रेल – एक परिचय
विश्व / भारत का इतिहास
भारत का भूगोल
भारतीय अर्थव्यवस्था
सामान्य विज्ञान
भारत के राज्य
भारत एक परिचय
विश्व : एक दर्शन
Speedy Railway Book PDF GS for RRB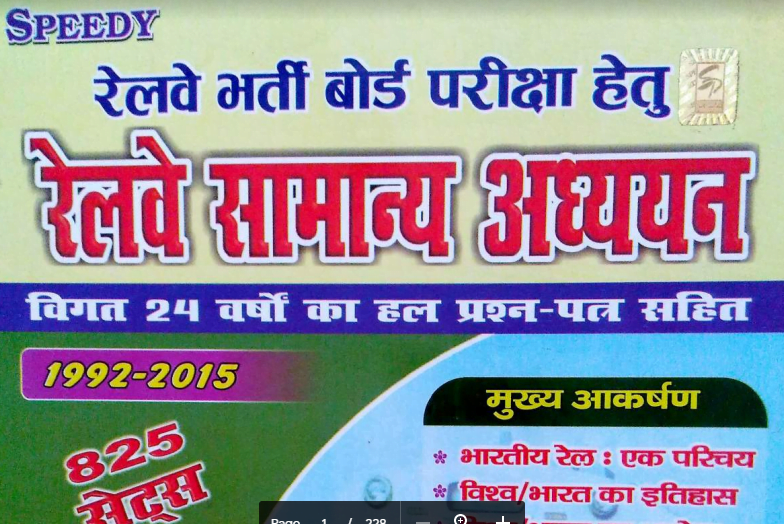 Railway Samanya Gyan : General Study
Books in Hindi
By Speedy Publication
Includes Exam Papers of Last 24 years
Practice Sets
PDF Pages : 228
Free download Speedy Railway Samanya Adhyan book from the below google drive link:
Disclaimer – We are not owner of this Speedy Railway General Study Book PDF in Hindi. RRB previous year Exam Paper, Practice Sets स्पीडी रेलवे सामान्य अध्ययन. Neither it been created nor scanned. we are only provide the material already available on the internet for the self study of students. If any violates the law or there is a problem so please contact us. This PDF can be withdrawn on the request / objection of publisher.