English Speaking Course ebook by Englishwale and Rapidex English Speaking Course Book by Pustak Mahal, PDF of both the books in Hindi are available for free download. Books are designed / written by Professionals; comprising British Grammar Experts, Call Center Voice & Accent Trainers, TOEFL/IELTS Trainers.
रैपिडेक्स इंग्लिश स्पीकिंग कोर्स और इंग्लिशवाला इंग्लिश स्पीकिंग ईबुक पीडीऍफ़ फ्री डाउनलोड
The book is definitely worthy for us, if we want to speak English fluently. The purpose of English Speaking may be to grow the professional career, Crack the TOEFL / IELTS levels or impress the interview team for jobs. Now a day, better English Speaking with good ascent is requirement of most of the jobs.
The best part of both the English Speaking Course is that they are prepared for the Hindi Language Students. Therefore, It is easy to understand and self study the books.
I hope you will like the English Speaking PDF of both the publishers. First, we are providing the details of englishwala ebook.
English Speaking Course Book विषय – सूचि:
Before We Start (शुरुआत करने से पहले)
Letters Of Hindi And English Alphabet (हिंदी और अंग्रेजी वर्णमाला के अक्षर / वर्ण)
Greeting (अभिवादन)
Manners (शिष्टाचार)
What Is The Time? (समय कितना हुआ) – अंग्रेजी में समय बताना
Numerals & Their Pronunciations (संख्याएँ व उनके उच्चारण)
Punctuation Marks (विराम चिह्न)
Seven Days of a Week (हफ्ते के सात दिन)
Twelve Months of a year (साल के बारह महीने)
Few Basics of English (अंग्रेजी की कुछ मूल बातें)
Sentences & Their Types (वाक्य और उनके प्रकार)
Parts of a sentence (वाक्य के भाग)
Subjects Types (Subjects (कर्ता) के प्रकार)
1st Person, 2nd Person, 3rd Person "Singular-Plural" Concept
Use of "This, That, These, Those" ("This, That, These, Those" का प्रयोग)
Difference between Living & Non Living (सजीव और निर्जीव के बीच अंतर)
Use of Apostrophe s ( 's का प्रयोग)
Let"s cram a few things (आइये कुछ चीज़ें रट लें)
Noun – संज्ञा
Proper Noun (व्यक्तिवाचक संज्ञा)
Common Noun (जातिवाचक संज्ञा)
Collective Noun (जातिवाचक संज्ञा)
Material Noun (समूहवाचक संज्ञा)
Abstract Noun (भाववाचक संज्ञा)
Gerund (क्रियावाचक संज्ञा)
Countable & Uncountable Noun (गणनीय और अगणनीय संज्ञा)
The Noun : Gender (लिंग)
Noun : Number (वचन)
The Noun : Always Ending With 'S' (जिनके अंत में 'S' हो)
English Speaking Course Book PDF in Hindi Free Download
Book Name : Spoken English ebook
Publisher : Englishwala, Spoken English guru
Medium : Hindi and English
Number of Pages : 400
Quality : Very Good
Thanks for free download the Spoken English e- book PDF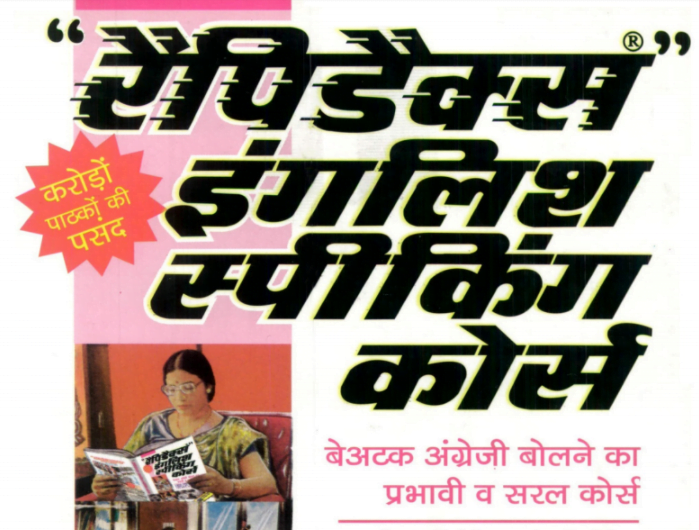 Rapidex English Speaking Course PDF
Book Name : Rapidex English speaking Course
रैपिडेक्स इंग्लिश स्पीकिंग कोर्स
Publisher : Pustak Mahal
Number of Pages : 771
Quality of PDF : Outstanding
Click below button to download the Rapidex English speaking course PDF
Declaimer : We are not the owner of both the English Speaking Course PDF. We are only providing the google drive links of books PDF, already available in the internet.