2000 + MCQ History Book PDF for Competitive exams for free download. Disha Publication History objective questions with answers, solutions, hints and explanatory notes. Selected topic wise questions from previous year exam papers for upcoming govt jobs exams. This MCQs book is very useful for UPSC Civil Services IAS, NDA, CDS, SSC CGL, SSC CHSL, CPO, Railway, Banking, UPSSSC PET and NRA CET.
The History MCQs book consist topic wise questions from the following topics :-
Ancient History
Medieval History
Modern History
World History
Contents of History MCQ Book
Ancient History
Stone, Bronze and Iron age
Indus valley civilization
Vedic period
Religious movements- Buddhism, Jainism
Mauryan and Post Mauryan, Sunga, Kanava, Chedi, Satavahanas, Sakas, Partians, Kushans|
Maurya Period and Post Maurya Period
Sangam, deccans era, Vakatakas, Chalukyas, Pallavas, Chera, Chola, Pandyas, Rastrakuts
Gupta and Post guptas, Hunas, Vardhans
Post Gupta Period
Pre-medieval period
Medieval History
Delhi Sultanate
Chandelas
Vijaynagar and Bahmani empire
Religious movement – Bhakti, Sufi, Sikh
Mugal Period – Sur Dynasty
Maratha Kingdoms
Regional Powers
Modern History
Arrival of Europeans
British Establishment and Regional powers
East India Company Rule and Regional Powers
British rule and its impact and regional powers
Movements Satyagrah / Revolts
Socio -religious and cultural reforms
Indian National Congress and Muslim League
World History
World war I and world War II
Features of Indian History Book
2000+ MCQs for Competitive Exams
Selected Questions from previous year exam papers
Important and repeated questions for govt Jobs examinations
Answers with explanation / solution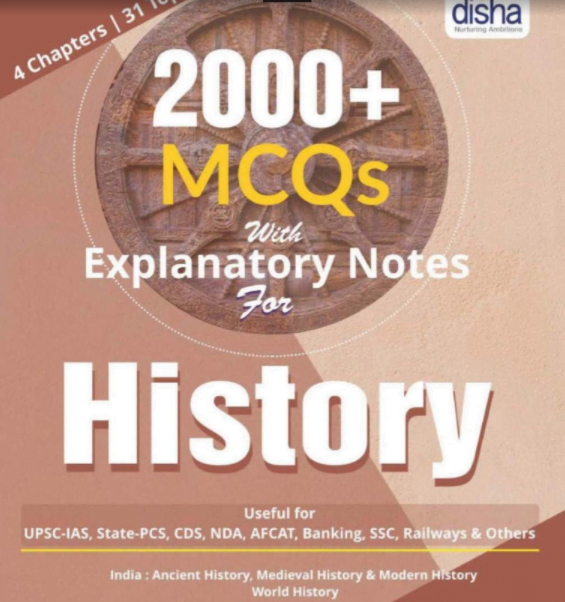 Download Indian History MCQ Book PDF
Book Name : 2000+ History MCQs with Explanatory Notes
4 Chapter 31 Topics
Publisher : Disha Publication
Type of Book : Objective MCQ for Competitive Exams
Language : English
Quality of PDF : Very Good
Number of PDF Pages : 210
Disclaimer : This Indian History MCQ Book PDF for Competitive Exams is not our property. The publisher of Book is Disha publication and we are sharing the google drive download link for self study of students.
History MCQ Online Practice