Disha Publication 10000 MCQ General Studies PDF for free download. Objective GK/ GS Question and answer Book in English for Competitive Exams. MCQ with explanatory notes, hints and solution of important questions. This book is very useful for UPSC, IAS Civil Services, NDA, CDS, State PCS, UPPSC, UPSSSC PET, NRA CET, Bank etc.
Contents of General Studies Book PDF
Indian History- Ancient, Medieval and Modern
Indus Valley Civilization
Vedic Period and Religious Movements
Maurya Period and Post-Maurya Period
Gupta Period and Post Gupta Period
Ancient History (Miscellaneous)
Medieval History
Delhi Sultanate
Mughal Period
Modern History
Indian Freedom Struggle – I (1857-1917)
Indian Freedom Struggle – II (1917-1947)
GEOGRAPHY – Indian and World
Astronomy
Physical Geography
Economic Geography
World Geography
Geography of India
Indian Polity & Constitution
Indian Constitution
Political System
Local Government and Public Policy
Judiciary
Indian Economics
Indian Economy
Planning and Economic Development
Agriculture in Indian Economy
Industry
World Economy
GENERAL SCIENCE
Physics, Chemistry, Biology, Environment and Ecology, Science and Technology
GENERAL AWARENESS
Art and Culture
National and International Awards
Books and Authors
Sports and Games
Miscellaneous
CURRENT AFFAIRS
National
International
Economical
Awards and Honours
Sports and Games
Science and Technology
Miscellaneous
Features of GS Objective Questions Book
Selected Questions from the previous year exam paper
Explanation, Solution of every MCQ Question
Repeated questions in various exams
Topic wise classification of important questions
Very useful for upcoming competitive exams.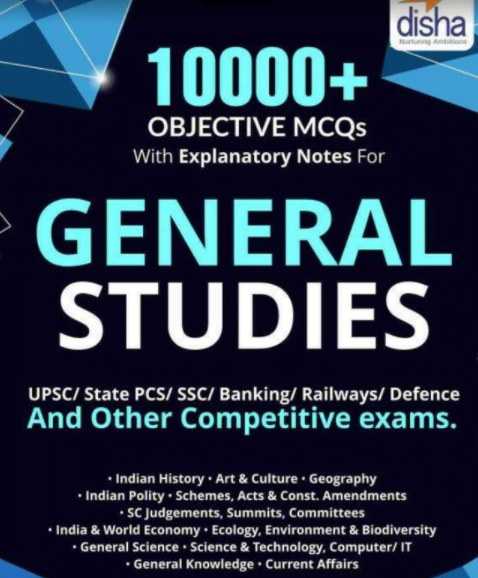 Download General Studies MCQ Free PDF Book
Details of GS Book :
Name : 10000 + General Studies MCQ for Competitive Exams
Book Publisher : Disha Publication
Quality of Book : Very Good
Language : English
Number of PDF Pages : 618
Download Disha Publication 10000 + GS Objective Questions Book PDF from the below google drove link.
For Current Affairs MCQ : Please visit : GK Now Current Affairs MCQ
Disclaimer :- It is inform that, we are not the owner of this disha publication General studies MCQ book. We are sharing the PDF google drive link for self study of students and government jobs aspirates preparing for competitive exams.