SSC Reasoning Previous Year solved Questions paper PDF book for free download. General Intelligence and Reasoning ability Chapter wise solved Questions from the year 2006 to 2019 collected from the 113 Questions papers and 76 online test conducted by SSC. Solved previous year Questions paper are useful for SSC CGL, CPO, CHSL, MTS, Steno and all other exams.
SSC रीजनिंग पिछले वर्ष के चैप्टर वाइज प्रश्न हल करने के लिए प्रश्न पत्र पीडीएफ पुस्तक मुफ्त डाउनलोड के लिए जनरल इंटेलिजेंस एंड रीजनिंग क्षमता ने वर्ष 2006 से 2019 तक 113 प्रश्न पत्रों और एसएससी द्वारा आयोजित 76 ऑनलाइन टेस्ट से प्रश्नों को हल किया। पिछले वर्ष के प्रश्न पत्र SSC CGL, CPO, CHSL, MTS, स्टेनो और अन्य सभी परीक्षाओं के लिए उपयोगी हैं।
Chapter wise Questions from SSC Exams, Cover all topics as per new syllabus and exam pattern. The following subjects and topics are includes :-
Verbal Reasoning
Non verbal Reasoning – Figure based questions
Logical Reasoning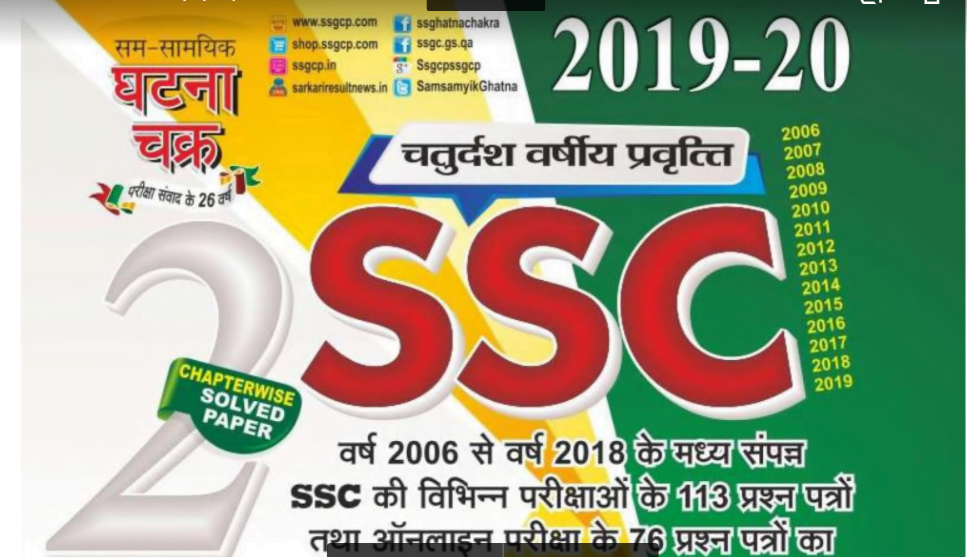 List of Topic wise Questions are given below
Verbal Reasoning
Number and Alphabet Series- 512
Analogy – 649
Classification – 560
Order and Rankin – 335
Find the missing number – 364
Coding Decoding – 200
Clock and Calendar – 58
English Alphabet – 236
Blood Relation -77
Directions Sense test -165
Data analysis – 121
Metrix and Venn diagram – 397
Mathematical Operators – 214
Non – Verbal Reasoning
Figural Series – 58
Classification – 48
Water and Mirror Image- 119
Paper Cutting -122
Cube and dice – 78
Logical Reasoning – 51
SSC Reasoning Previous Year Questions PDF Download
Number of PDF Pages : 152
Language : Hindi Medium
Download the SSC Previous year Solved Question Paper book PDF from the below link.
डिस्क्लेमर – हम इस SSC Reasoning Previous Year पीडीएफ के मालिक नहीं हैं, न ही यह न ही बनाया गया है और न ही स्कैन किया गया है। हम केवल इंटरनेट पर पहले से ही उपलब्ध सामग्री प्रदान कर रहे हैं। यदि कोई कानून का उल्लंघन करता है या कोई समस्या है तो कृपया हमसे संपर्क करें
Reasoning Questions, Bilingual (Hindi & English), Topic Wise